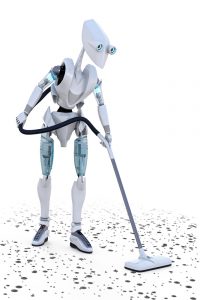 Cleaning can be a mundane task, or seem like a waste of valuable manpower. Whether it be for your home or business – cleaning is essential for success and a better environment to work and live. In your workplace, productivity is hurt in big ways by clutter in the workspace. A clean work environment is better for your employees and your customers and in a world where first impressions are everything, having a cluttered mess in your business should be avoided at all costs. The same can be said at home, where clutter can increase stress levels and even be dangerous for children.
Options for cleaning have typically been setting aside staff time to accomplish cleaning tasks, or hiring a professional outside service to come clean every nook and cranny of your building but the future of cleaning may be changing. What if robots could enter the equation? Robotic machines are increasingly being used for cleaning tasks, especially those in which humans can be put at risk.
iRobot designs and develops the best robots to cater to individual needs. iRobot offers home robots which can perform operations like floor scrubbing, vacuum cleaning, pool cleaning and floor mopping. Customers can purchase these robots online and get great discount by applying iRobot coupons.
We all know about robotic vacuum cleaners that scurry around on the floor, seemingly knowing where to go to keep the floor dust free – but what else is out there? There are other robotic options already on the market, with even more in development. Obviously, robots cannot completely replace humans (yet, anyways) but they can make cleaning your home or business much less daunting and dangerous. Let's take a look at a few other friendly robots that can help keep your workplace or home clean and organized.
Pool Cleaners
iRobot, who makes some of the famous robotic vacuum cleaners, already has an entire line of products on the market including a really interesting pool cleaner. The Mirra, as they call it, can keep a pool clean without using filtration systems, pumps or hoses. The robot will remove junk from the surface of the pool, keep the walls clean with its own scrubbing brush and make sure the water stays clean. It can be used in virtually any in ground pool.
Gutter Cleaners
If the Mirra is not enough, check out the Looj 330. This cool robot can be inserted into your rain gutters where it travels under its own propulsion and senses any debris in the way. Gutter cleaning can be a dangerous and time consuming job, but the Looj removes any risks or stress from the job. You can even carry it up to the roof hands free by simply attaching it to your belt. A Looj 330 will only set you back about $300.
A Robotic Maid
One of the newest products on the market are floor mopping robots. That's right, now you can spend less time in the kitchen and trust a robot to mop your floors. Certain models can be programmed to mop over 2000 square feet in one cleaning cycle, which means they can navigate through your home or business and find the floors which need a good mop job.
What does the Future Hold?
Other products are in development, or being tested in various markets around the world. Machines like the Gecko can be used to scour and clean interior walls, while others are being experimented with in Europe for cleaning outdoor surfaces of varying types. Theoretically, these new robots could be used to climb skyscrapers and clean windows – a dangerous and expensive job for humans.
Regardless of your opinion on them, robotic machines are set to revolutionize the home and business cleaning processes. There are already quite a few highly efficient cleaning robots, and in a few years time there are bound to be many more. Today, however, some human touch will still be needed. If you have a difficult job like pressure washing, call your local professional service like American Clean & Seal Pressure Washing who can do jobs that even robots won't do.