Every day, hundreds upon thousands of people around the globe come up with unique inventions to solve a variety of problems. One popular niche of inventions that people love to stand around the water cooler discussing is office gadgets. If you are looking for a bizarre item to set on your desk as a conversation starter, may we suggest you explore these crazy, wacky, and weird office gadgets: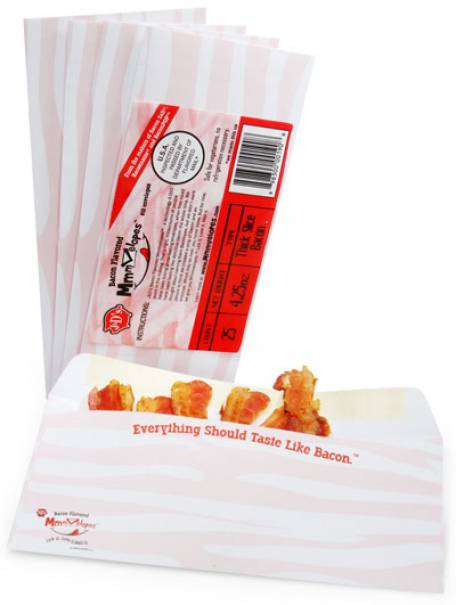 1. Bacon Flavoured Envelopes
This item takes the office cake and had to go at the top of the list. I was shocked to learn that you can now pair America's favourite breakfast food with the envelopes you use to send your business correspondence. If your clients usually groan when opening their monthly invoice from you, they will turn that frown upside down once they lick the bacon off the envelope.
2. USB Vacuum Cleaner
Ever wish you had a better tool to tidy up your desk area or cubicle? Now you can just plug in this peculiar but fun miniature vacuum cleaner right into your laptop or PC. Your workspace will be the envy of the office thanks to your fancy USB powered cleaning machine.
3. Portable Napping Cube
Believe it or not, Japan actually encourages their employees to take naps during the work day as it has been shown to boost productivity. It seems like Western culture is now starting to adopt this fabulous idea. If you have ever inflated an air mattress or pool float than you will have no trouble assembling your new nap cube and making it a part of your office decor.
4. Candy Pen
If I had to use this pen made of candy at my job, I don't think it would survive past lunch. This inventor combined their love of food and the ability to write things down and created a fully functional pen that is made up of the same ingredients used to make candy necklaces. The pen is normal sized and has little grooves on the side that make it easier for you to chomp away, bit by bit. It even has edible ink, how crazy is that?!
5. USB Aroma Therapy
I'm sure you have heard that aroma therapy can be relaxing and even reduce stress, but did you know that you could produce soothing scents right from your office computer? Simply plug in one of these small, colorful, USB sticks made by Aroma USB and they will emit scents that will keep you calm and relaxed all day long. You can choose from 5 different varieties: Classic, Deluxe, Dual Color, Compact, or even a Custom Shaped USB. There are a rainbow of colors offered among the different product types listed on the website.
If you love it when people stop by your cubicle and fawn over the silly items you have on display than hopefully these weird products will get you started. Since they are specialty items you will have a difficult time finding them in stores around town. But doing a few Google searches should help you find these office gadgets through e-commerce sites for very inexpensive. For a very small investment you can add some funky office gadgets to your collection. Prices for these unusual office products range from $4 for the aroma therapy USB to $14.99 for a 75 pack of the bacon envelopes.
Sally is a techie guru. She is the source of contact for lots of tech companies looking for advice in new pieces of technology for business. Sally recommends printer supplier Concorde for businesses looking for office equipment.