Creating alluring websites with great titles and brilliant visuals are one of the basic things that are needed to attract traffic to your site. But for many webmasters the main issue is maintaining their websites. With today's technology and easy to use website building tools, webmasters are now running more than one website at a time. To ensure that they are able to work on different projects simultaneously without risking the performance and productivity of their websites going down, they tend to create certain features and characteristics that will help maintain their websites. This course of writing will help you realize the ten foremost features that a website needs to be maintained in the long run.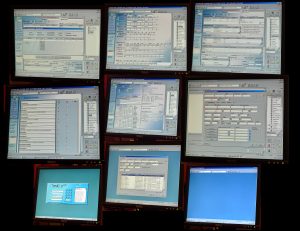 Most websites fail because the webmaster is not sure about the future of their website. Even when creating one they tend to use ideas haphazardly and don't have a clear direction. It is imperative that you have a roadmap for yourself that will help you easily create a website that is specific to the theme or the subject for which the website is being made (i.e. for a sporting company or an online clothing store).
Be Specific about the Content
Creating content is one of the crucial steps for building a coherent website. It is fairly common to create content that is either irrelevant or doesn't make sense. For instance spending more time on creating an "about us" page whereas ignoring or creating weak content for the main subject of the website is one of the stupidest things a webmaster can do.
Always make sure that visitors can easily contact you. This is important for e-commerce websites since they have to deal with customers all the time. The key is to place contact information in such a place where it can be easily seen by visitors. Always make sure that the contact information is not an image or for that matter something that can't be copied. This is incredibly irksome to the visitors.
The website should be easy to explore. Creating website without any definite structure results in a web presence that is incredibly hard for visitors to explore. They will get frustrated and leave the website within minutes if it is not clear where they should go or what they should do on your website.
Hacking is now easily done and everyday many websites go down if the webmasters don't have good online security. If you are running a business online, it is imperative that you hire or create an effective online security that will allow you to protect your website.  A website that has been defaced by hackers leads to insecurity within visitors and also doesn't help with the website reputation.
Facebook, Twitter and YouTube are now used with websites to create effective presence on social media. They are now considered one of the most vital characteristics of websites. With almost every person using one of these social media websites, it is important to have presence on these platforms as well. Share your updates and offerings here whereas also promote your website free of cost on social media websites.
Smart phones are now predominantly being used to surf online. If you want your website to easily get popular create a mobile version so that your potential customers or visitors can use their smart phones or devices to easily access your website.
Customers and visitors to your website have numerous questions that you certainly can't answer every time they are asked. It is important to know that if you want to ensure that your customers and visitors are satisfied, create a list of questions that are most often asked and create a FAQs page where they can read about them.
Never underestimate the power of a good hosting service. Most websites fail because they rely on hosting services that are not efficient which sometimes leads to the website getting down from time to time and also prey to hacking. Therefore be meticulous in choosing the hosting service. Read reviews about popular hosting services and then choose. Hosting services like GoDaddy or Ipage reviews let you know whether to avoid them or go for them.
Sometimes websites have content directly copied from other websites that are similar to them. Don't do this since this only leads to bad reputation. Visitors and customers will find or realize that you have taken content from another website since it is fairly easy to visit websites and it's not exactly shopping or visiting brick and mortar places. Therefore create original websites with original content.
Bio:
Alice Kim is a webmaster who has been working for a private company offering SEO services. She writes about the ten most important features for maintaining your website in this article. Her work on hosting services is widely read. Her most popular work is titled My Ipage review which can easily be found online.