Our dependence to the online world is indefinable which is also obvious after experiencing its incredible convenience accompanied with it. There is no doubt, with the advent of online service the lifestyle and standard living of people experiencing a tremendous change which shows a positive sign for the development of the economy.  In the time when online platform gives us so much privilege in making our life easy, it again proves its credential by presenting the numerous medium for online recharge as well. Introduction of recharging medium via online is till now one of the greatest innovation of technology which eases the efforts of people and makes them stress-free.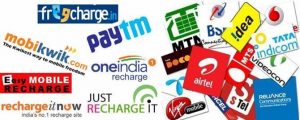 All the reputed and majorly used network like Airtel, Vodafone, Idea, Jio, BSNL making use of online recharging approach convenience and allow their users to recharge their phone online and avail the best of its advantages. The whole process to online recharge of your phone is quite simple to proceed without delving into any complicated procedure and hardly consume your 5 minutes from your productive time. All you need to install any of the reliable online recharging medium like a third-party app- phonepe, paytm, tez, mobikwik, freecharge or can install the app of your network service provider both are equivalent it just a matter of rewards that will differ otherwise the facilities and convenience are same.
Let's see some specialty of the online recharging medium:
Single online store and provide multiple recharge services- mobile/DTH/ metro and data card.
Super fast process to complete the recharging requirement of users
Provide some discounts on recharge and cashback in users wallets
Accompany the recharging process anytime and from anywhere
Security-oriented apps which protect the personal information of users
Dedicated customer support for solving customer queries and problems
All such advantages no doubt make this online medium a favorable support to the user who wants to get out the stress of visiting any stores for recharge requirements. Installing a third-party or network service provider app is quite easy, you can easily download from the hub of app called play store. Then you follow the hassle-steps as stated to your screen once you open the app which conveys you to log in your details including phone numbers or email ID and immediately you will register yourself to the site. The total process of recharging your number through online apps takes a few minutes and save your profitable time. Also, you get the facility to recharge your number 24×7 and from any part of the world. So you are liberal from the burden of visiting any stores.
What else do you want from the online recharging portal- 24×7 assistance, rewards, easy steps, plans for different network, top-up recharging plans from small to large, what so ever will be your need it will get satisfied only on apps like paytm, freecharge which are known as the pioneer of users massive recharging needs. Thus, no need to waste your life best moment in visiting different recharge store when you already have the access to online recharging support in your hand, make the best use of your smartphone.