Every business requires a project management application to manage their daily tasks in an organized and flexible way. Wrike project management software is the perfect solution. It provides a central workplace where all employees can interact and collaborate in real time, regardless of where they're located. In Wrike, all the latest conversations, activities, and work updates can be viewed in one place, so everyone stays up-to-date on progress, changes, and priorities.
Established in 2006, Wrike's online project management software helps businesses organize, plan, and collaborate on work with colleagues all over the world. More than one million users and 11,000 paid customers rely on Wrike's project management tools online to improve workflows and increase efficiency.
Wrike's user-friendly interface is easy to customize and navigate. Organize your work into folders and subfolders however you like, whether by company department, client, project, or urgency, so all your tasks and files are easy to find. Then share tasks and folders with specific colleagues or entire user groups and departments, and use task comments to discuss new ideas, leave feedback, or provide status updates instead of sending emails and attachments back and forth. Set assignees, due dates, priority, and status, and attach files directly to tasks so your team has all the information they need at their fingertips.
Wrike's Key Task Management Features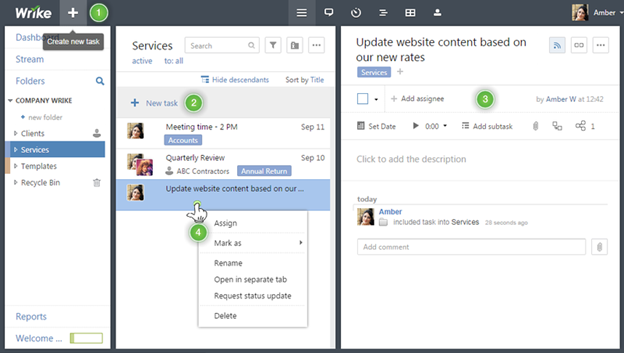 Interactive Gantt Chart
The interactive Gantt chart makes project planning easy. Drag and drop tasks on the project timeline to adjust your plan, set dependencies and milestones, and ensure your project is progressing according to plan.
Easy Task Prioritization
View tasks by priority, and drag and drop within your tasklist to quickly reprioritize work. Changes are immediately reflected across everyone's workspace, so your whole team knows which tasks are most important or urgent.
Real-time Activity Stream
The Activity Stream is a real-time newsfeed of all the latest changes and discussions on the tasks you follow. Just scroll through the live feed to quickly catch up on important updates, instructions, and priorities.
Custom Reports & Visual Analytics
Wrike provides greater visibility into your team's workload, progress, and results. See your most productive team members, compare your initial project plans with your actual progress, and get important insights into your team's workload so you can distribute tasks and optimize the team's efficiency.
Third-Party Integrations
Wrike integrates with dozens of other popular web tools, including cloud storage services like Box, Dropbox, Onedrive, and Google Drive. Integrations with Google Apps, Salesforce, WordPress, MS Project and Excel, QuickBooks, Zendesk, and chat tools like Slack and HipChat are also available. You can also use Wrike's open API to build your own custom solution.
Email Integrations
Turn email messages into Wrike tasks with a single click. Wrike's email integrations for Outlook, Apple Mail, and Gmail let you track, update, and discuss tasks and projects with your team without ever leaving your inbox.
Free Mobile Apps
With so many of today's workers relying on their smartphones to get work done on the go, mobile apps are a must-have for your project management solution. Wrike offers free native apps for both iOS and Android.
Wrike Plans and Pricing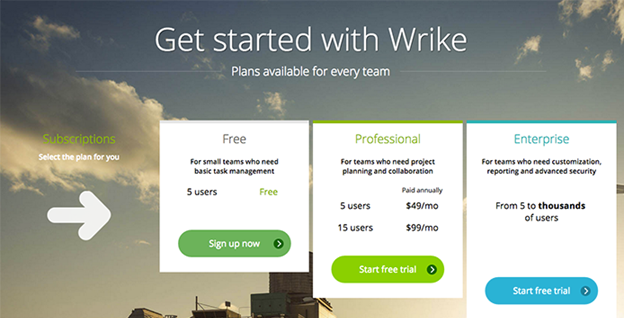 Wrike's software for project management is available in three subscription plans to accommodate teams of all sizes. The free plan has 2GB of storage and essential work management features, including file sharing, the real-time Activity Stream, and email integrations. The paid Professional plan costs $10 per user/month for 5, 10, or 15 users, and includes project management features like the interactive Gantt chart, subtasks, custom Dashboards, and a notification center. The Enterprise plan, which is designed for large teams, offers advanced features like Custom Fields and Workflows, real-time reports, and custom calendars.