Twitter is a huge social media site and one if you want to us it for marketing purposes it is imperative that you get as many followers as possible. Here are ten of the best tips to make that happen: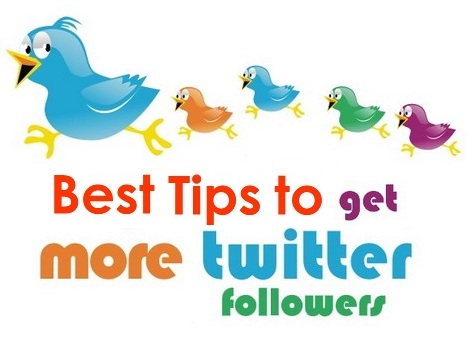 1. Have an Interesting Bio
Your bio is one of the most crucial aspects of using Twitter: it is your way to let the world know who you are and what you are about. An interesting and intriguing bio will make the reader want to find out more about you, so include what you do in a professional capacity and a few snippets of personal information, such as hobbies or interests. Remember to update it regularly as old content is off-putting.
2. Consider Your Content
Think about who is going to read your content and make it interesting. Include images or videos to catch your readers' attention (videos are more likely to be shared than text). Keep your tweets short (which is not so hard with the 140 character limit) as shorter tweets have a higher interaction rate.
3. Include a Recent Photo
People like to see who they are talking to, so make sure you include a photo. Aim for a head and shoulders shot with you as the focus.
4. Link to Your Twitter Page
Publicize that you are on Twitter. For example, if you write a blog, include your Twitter link. That way, if people enjoy reading your blog, it stands to reason they might also be curious about your Twitter page. In fact, leave a link wherever you can, the more people who see it, the more people will pop over and see what you are all about.
5. Engage With People
Twitter is a social site, so you need to be sociable. Initiate conversations with people who you don't know. If you are in business, there are tools that can help you identify influential people on Twitter, so engage in conversation with them. A great way to get them to tweet back is by asking them a question. Another way to engage with people is to join in with daily tweet chats, which can cover a range of subjects.
6. Tweet Often
To establish and maintain a productive and useful Twitter account, you need to tweet often (no less than once a day).  The quality of tweets should be of a high-standard, with interesting and informative content.
7. Share Valuable Content
If you see something you like, or something that you feel will be interesting or beneficial to others, link it. Also, be generous to your followers and link to them or re-tweet.
8. Use Hash-tags
Tweets that have hash-tags are twice as likely to be re-tweeted than those that don't. Hash-tags can do a number of things such as recommend a product or identify a brand.
9. Have a Competition
Holding a contest or competition on Twitter can dramatically increase the amount of followers you have.
10. Consider the Best Times to Post
It's no good tweeting if all of your followers are in bed. Think about when the best time is to connect with your followers. There are tools available to track who is online and at what time they usually log on.
11. Don't be Annoying
To increase the amount of followers you have on Twitter you need to post content that others will want to share. Therefore, make sure your tweets are not irritating; Common complaints are cryptic posts, linking without commentary and serving up old news.
Zane Schwarzlose manages the earned traffic for Fahrenheit Marketing, an Austin SEO agency. Zane is a very late adopter of the blue bird.