When you buy a smartphone or a tablet running on Android, it already has some pre-installed browser. But are you sure that this is really the best app to access the Internet? Meet TOP3 most interesting browsers for Android-devices.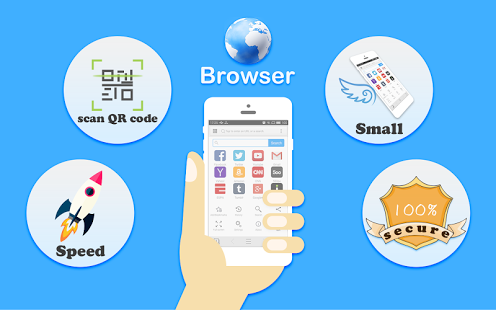 CM Browser
CM Browser was developed by the same company, which created the popular CleanMaster application for cleaning the memory of mobile devices. The main advantage of this browser running on any device with Android 4.0 or higher (most cheap cell phones have at the very least Android 4.0), is the lightweight of the installation package. CM Browser is an application that will appeal to connoisseurs of minimalist functional solutions. In terms of speed when opening pages, it is not inferior to many eminent competitors, but it is not able to compress traffic, and this is a significant drawback.
It is also worth noting the Flash support, enhanced security settings, including the prevention of the fraudulent nature of sites, the examination of apk-file of downloaded apps' and Malware protection from potentially harmful downloads. With four open tabs browser needs about 200 MB of RAM, which is not so much.
Google Chrome
Google Chrome is one of the most popular mobile browser in the world, because it is installed on many smartphones and tablets running on Android. The application allows you to import your mobile device bookmarks and saved passwords from the Google Chrome, installed on your computer or laptop. Another interesting feature is the ability to use the address bar as a search engine.
Many users like the interface of the browser. Indeed, from a usability standpoint, it is very good. Google Chrome does not support Adobe Flash, but you can watch online videos thanks to the HTML5 support. The ability to compress traffic will appeal to those who would like to save some money on the mobile Internet.
The browser is fast, so that you will not have to wait for long until it opens a page. Nevertheless, it needs a lot of RAM: in order to have four tabs open, you will need about 400 MB.
UC Browser
UC Browser was initially designed only for mobile devices, thus the ability to import bookmarks and passwords from a stationary PC is out of the question. The interface of the browser is extremely easy to use: everything is simple and clear. An interesting feature is the night Mode, in which the color scheme of a web page is changed so that it is convenient for you to browse the net, even in low light conditions.
If you need to save on data transfer, you should pay attention to the fact that UC Browser allows you to adjust the image quality and even disable all the information except for the text. It also compresses the traffic efficiently. It is worth noting that UC Browser works with Flash and has some privacy settings. In terms of RAM consumption, UC Browser also looks good: it needs no more than 200 MB to have four tabs open, which means that if you decide to buy Samsung smartphone which is not a super expensive flagship, you can still enjoy a convenient internet surfing.