Though there are many video converter software available in the market to convert video files, all they have not the same features. Besides the software, there are some online converters also. But with all the processes we do not feel comfortable.  The Wondershare Video Converter is this converter that comes with a lot of unique features to convert videos to any format. So, those, who are searching for the process and software to convert MOV files to MP4 can choose this converter because it will allow you to turn videos easily.
How to convert MOV file to MP4
We know that MOV is the file that is suitably compatible with macOS. So, with this file, we sometimes face problems such as we just get the sound but cannot see any picture, or at times it did not get opened. In this case, it is better to convert MOV file to MP4. There are many ways to convert it. Some website provides the online solution. Some developers also come with video converter software. I think it is better to have a video converter software to convert any video file to other because you can do it without visiting online.
However, when you search for a video converter, you will get a lot of them such as Movavi, CloudConverter, Wondershare Video Converter, etc. But among them, I recommended you the last one. But why? Because this video converter comes with some unique features and the interface of this software is very much user-friendly. So, you can efficiently use this software without any problem. This software directly converts video to any format such as MOV to MP4, MKV, and other 1000 formats. Learn How to convert MP4 to DVD.
Converting MOV file to MP4 with Wondershare Video Converter
This converter works so fast and provides the best quality. So, you can say that it is the ideal software to convert MOV file to MP4. It is the software that is available for Mac device and Windows users. Let's see the process of converting video files.
At first, install the Wondershare Video Converter to your computer and open the software.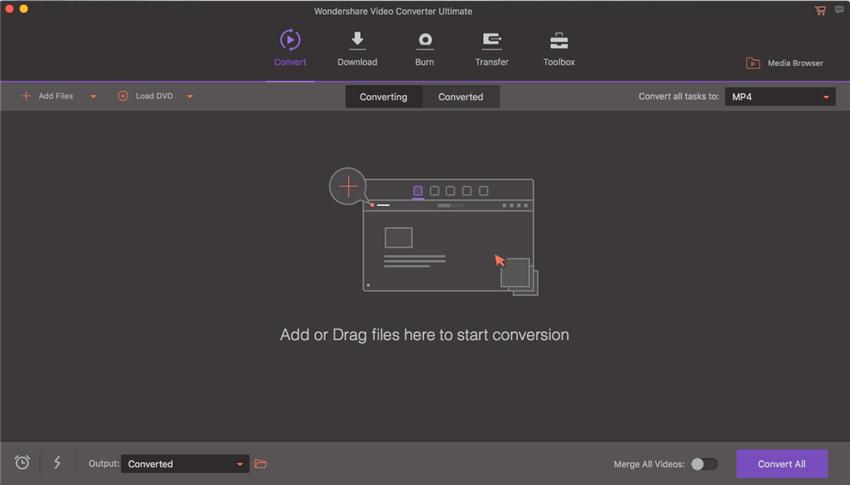 Then load the MOV file that you want to convert into MP4. You can load the file in two ways. One way is to drag the file and drop it into the interface of the software. The other way is to click the Add Files option. After clicking this option, an explorer will be opened. Now you have to locate the file and click the Open option. However, this software allows you to add multiple files to convert.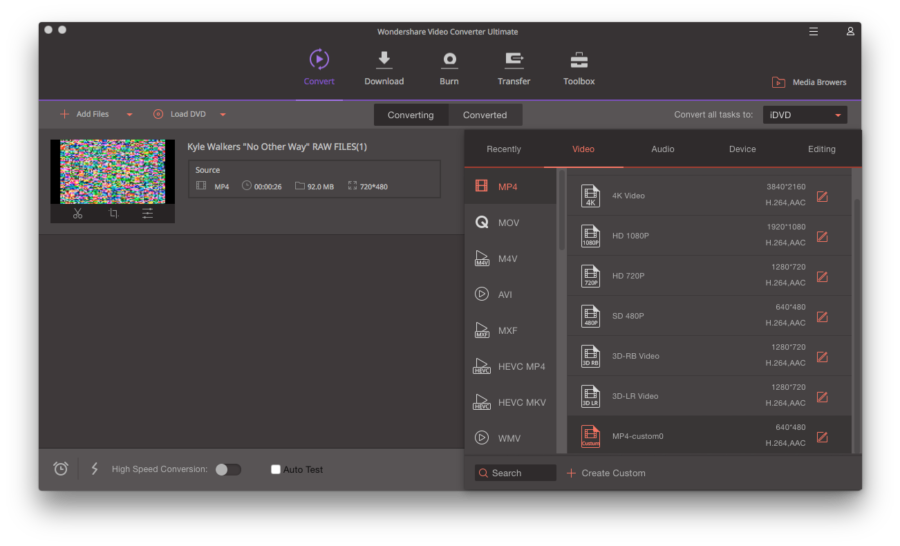 Now you need to click the output format option which is at the top and right side of the windows. When you click it, you will get several format options. Then select the MP4 format for the output.

Besides, you can edit your video from here by clicking another option. For this, you should click the edit button. Now click the convert option of when you set the output format. The process will get started.

Click the Convert button after setting up your output format. Now the conversion process will be started. Wait for a few minutes. Then after completing the process, you will get a notification with a pop-up on the right side.

This software is very speedy. But the duration of completion will depend on the size of your file.
Finally, we see that the process of using Wondershare Video Converter Ultimate to convert any MOV file to MP4 one is quite easy and quick. The software is so smart and provides the user the best experience. It also allows you to customize your video.  I think it is the best converter software I have ever seen. So, , I will always recommend this software.