Promotions or Primary?
The email marketing ecosystem got a complete overhaul when Gmail started to change its user experience from a single inbox interface to a tabbed Inbox; Personal/Primary tab, promotions tab and social messages tab. By default all openers land in the Primary tabs; could there be a relation between primary placement and opens, web-hits and conversion rates…?
Mails in Gmail primary tab got opened up first which in turn increased the conversion rate….! But how did we arrive at this conclusion….?
We studied the impact of Gmail's tab categories on revenue generation by experimenting with a series of campaigns targeted to Gmail users.
CASE STUDY
The primary objective of the case is to determine difference in revenues generated from Email campaigns that had landed in Primary & Promotions tab in Gmail. The secondary but the equally important objective is to determine futuristic areas where Gmail primary tab targeting mailing strategies can be applied for better ROI.
Data used and Approach Adopted
The approach adopted involved directing 24 Campaigns with HTML-based creatives and 7 Campaigns with single images to the Gmail ids. These mailers were targeted between periods of 30 days; 1st March 2015 to 31st March 2015.
HTML Campaigns: The email campaigns sent to Gmail segments using an HTML template.
Single image campaigns: The email campaigns sent to Gmail segments using a single image.
Text mail campaigns: The email campaigns sent across Gmail segments using the text mails without any images.
By following simple trial and error methodology it was found that the campaigns sent with single images delivered into the Gmail primary tab and that with HTML delivered into the promotions tab.
OBSERVATIONS
Observations on Email campaigns:

By the end of March we tracked the average data for Conversion, Revenue and Website visits for the whole email campaign.
Conversions: The total number of people transacted from emails i.e. total number of products purchased.
Revenue: The total amount generated (in rupee).
Website Visit: The total clicks counted from campaigns.

Table 1.1
On Comparing both the campaigns shooted across the Gmail segments , we received around 3 times increase in the conversion rates, 2.5 times revenue generation as well as 1.6 times website visits/hits through Single image campaigns than the HTML Campaigns.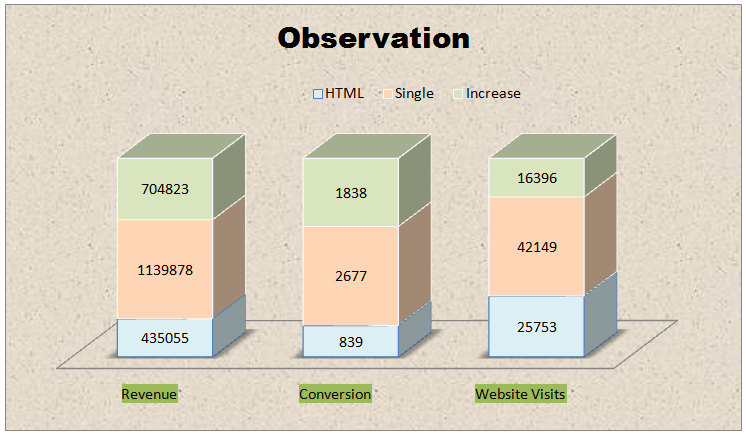 Figure 1.1
Conclusion
Ratio Analysis
The ratio analysis on the findings can be charted as below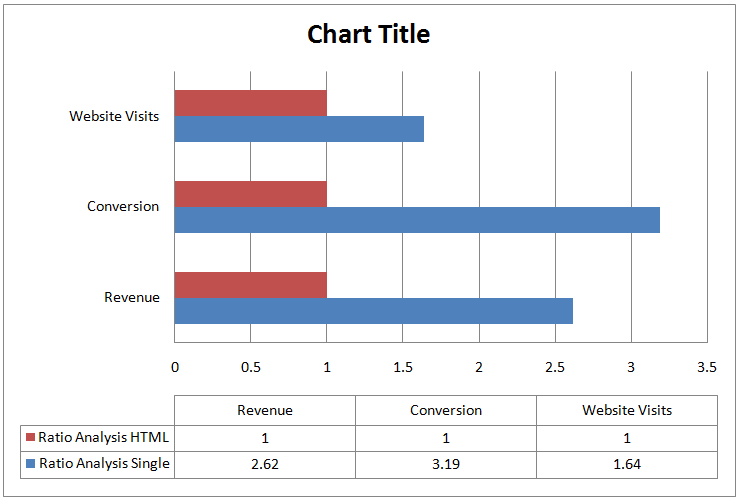 Figure 1.2
The content weightage for Single image campaigns is much lesser than HTML and its chance of getting placed in primary is higher. The users who get mails in the primary tabs are more likely to respond this leading to an increase in website visits, leading to further conversions and thereby generating revenue.
Future Implications

:
As observed Single Image or the Text mails were more likely to get delivered to Gmail primary inbox. This resulted in higher responses. The strategy of using single images or text images in email marketing campaigns can be used for the reactivation mails for bringing back old active users, as well as communicating important messages, transactional mails, email preference center, survey, recommendation mailers and coupon expiry.