Back in 2012, if you had asked me whether 4K TVs would be a commercial success, I would've laughed off and told anyone not to be absurd. Part of the reason would be that, not only 4K content is ridiculously high in size but the processing power required actually to display 4k content was out of the reach of most consumers as it required high-end desktops to display it, making period HTPCs a bit underpowered. Not to mention that 4K displays were ridiculously overpriced. Fast forward to 2018, and now you can get them for less than $1000, 4k content is abundant, and Netflix and Amazon Prime streaming are apparently a thing.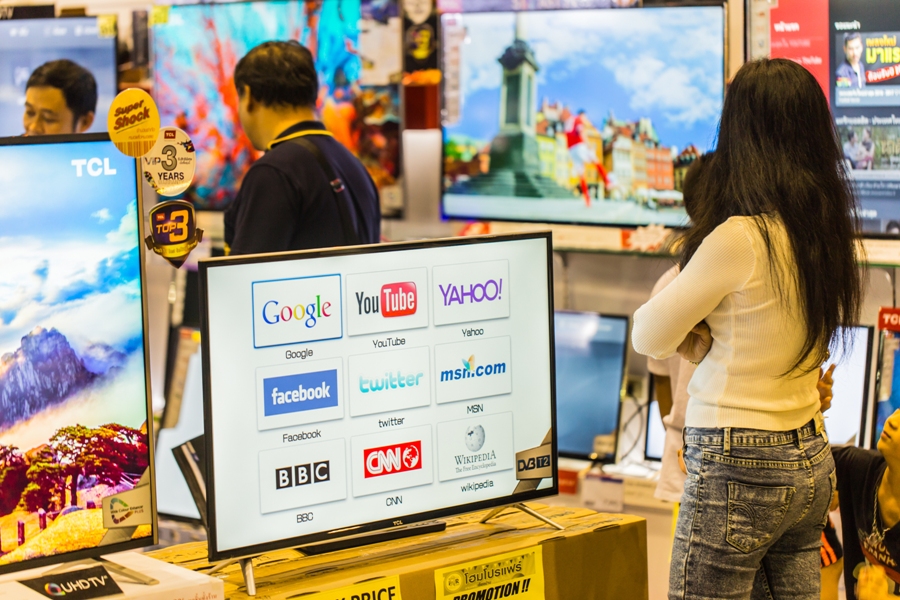 So, with so many UHD TVs being launched from a plethora of manufacturers, it can be quite difficult to make up your mind on one particular model from one manufacturer. So, here is a brief shopping guide, listing out a few contenders to aid your buying decision.
Samsung 75Q8C Curved 75 inch QLED 4K TV:

Samsung is an expert on a lot of things, and one area where it excels is making TV panels. The Samsung 75Q8C is the priciest offering from Samsung in India and is, undoubtedly, one of the biggest curved 4K

LED TV in India

. It packs in some killer features and is meant to be used a home theatre owing to its sheer size. It supports HDR, more specifically QHDR 1500, which is a post-processing algorithm by Samsung that aims to provide much better picture quality than standard HDR while maintaining a smooth refresh rate of 200HZ. It also supports Samsung's smart view app that allows you to control the TV via your smartphone, plus it also accepts voice commands via its remote to make switching between channels that much easier. As far as audio goes, it has native support for Dolby Digital Pus & DTS, and it also has a built-in 4.2 channel speaker with a Subwoofer rating of 60RMS. Now, the 75Q8C isn't cheap and commands a hefty price tag of anywhere between 4-5 lakhs; however, if money is no bar, then this is definitely the TV to go for considering the sheer number of features that it packs in.  
Samsung 65Q8C Curved 65 inch QLED 4K TV:

In many ways, it is like the smaller brother of the Samsung 75Q8C

.

It shares most of the features offered by its bigger cousin and has a similar QLED 10-Bit panel. However, it forgoes the QHDR 1500 and replaces it with the HDR10 standard, which is a boom for people looking to hook it up to a console like the PS4 Pro. It accepts up to 4 HDMI and 3 USB 3.0 Ports but sadly no Display Port 1.3 or Display Port over USB Type-C. Its suffice to say that it will be more than enough for anyone asking for a high-quality display to stream 4K content, and simultaneously, hook it up as a gaming monitor as it has a dedicated game mode to boast of. However, the small size commands a smaller price tag, and it can be found anywhere between 3-3.5 Lakhs, which isn't cheap by any means, but it's definitely more accessible to the masses.
Sony Bravia KD 65X9500E:

This is a high end offering from Sony for India and is definitely one of the best 4K TVs currently on sales. As the name suggests, it has a 65 Inch LED panel with Sony's 4K X-Reality Pro Engine processing. This engine has been Sony's trademark display technology for quite a while now and is proven to produce accurate and rich colours. It supports HDR and 4K upscaling and Sony's patented TRILLUMINOUS technology with a 100HZ refresh rate for smooth and true to life media playback.  One of the Highlights of this TV is its speaker setup which is dubbed as "Magnetic Fluid Speaker." It is a 4.2 speaker setup, where each of the satellites produces a total of 10W RMS and the Sub produces 20W RMS. The USP of these speakers is that they are made of a special Mica-reinforced Glass Fibre material which eliminates the need for a damper and produces studio-grade audio quality. The Sony 65X9500E is, undoubtedly, one of the big contenders for the

best LED TV in India

, especially given its value proposition over its rivals. It costs approximately 6.5 Lakhs which is way cheaper than Samsung's offering but has most of the desired features, including Smart TV features courtesy of Android 7.0.
LG 43UF640T:

There is a very slim difference between a good 4K TV and a good 4K TV on a budget – The latter offers similar bells and whistles as the pricier models but costs a lot less and isn't compromised on quality. The LG 43UF640T comes as a decent pick for anyone who needs a 4K display but isn't willing to spend too much on it. It can be had for as little as Rs.70-75,000 but comes with all the bells and whistles of a smart TV as one would expect. It has a 43inch panel and is powered by LG's WEB OS acting as the smart TV interface. It supports Native HEVC decoding uses LG's TRU-ULTRA HD Engine and Triple XD Engine to display life-like colours.
Mi LED Smart TV 4:

Mi has bravely decided to launch its Mi TV lineup in India after enjoying huge commercial success in China. The Mi TV 4 is one of the cheapest LED TVs in India

that you can buy. It is sold exclusively via Flipkart and costs Rs.39,999. It is probably the only budget 4K TV to support HDR, Dolby & DTS for the complete cinematic experience. And you wouldn't really expect this in a budget display, but it has 3x HDMI outputs with 2xUSB 3.0 and Ethernet ports. It also has a built-in Amlogic Quad Core 64Bit SoC with 2GB of RAM and 8GB of storage to take care of all the multimedia needs. Best of all, you get all the bells and whistles in a glorious 55-inch display that is really thin and looks classy.
Hope this served as a good guide for your next purchase. A usual, all models are actively updated, so make sure to check whether the following are still supported by the manufacturer before buying.  And for the latest updates, you can turn to Killer Features, one of the leading tech lifestyle portals in India.