In case you are already having a website and want to grow it by integrating some features of e-commerce, you will be spellbound by the options available in the market.
You must have heard about Magento and WordPress, right? So here in this post, I will put some light on the benefits and drawbacks of both these platforms and will help you to find the right solution for your business.
Moreover, if you have used WordPress in the past, you will find that using Magento is quite an unnerving task. So I will also provide you with some tips that will help you use Magento with ease.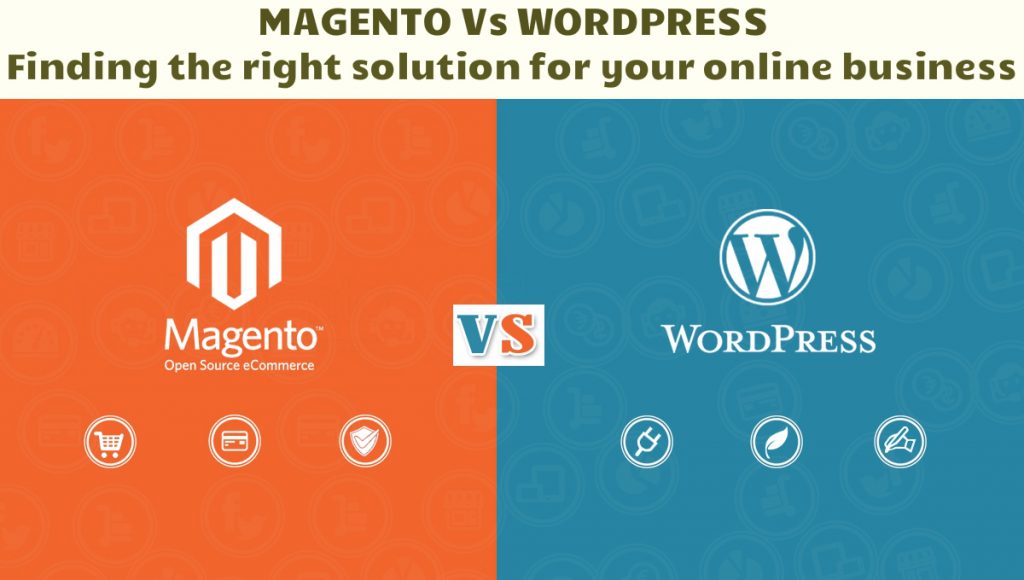 The resemblance – Magento Vs WordPress
If you take a look at both the platforms, you will find that they are structurally similar. They both are SEO friendly, easily customizable, can be themed as well as come with the support of a good online support community. You can easily add, delete, change and manage your contents in the best manner as they both come with better content management systems. The main difference between both the platforms lies on their core purpose. You can use Magento exclusively for the e-commerce platform while you can manage content well with WordPress.
WordPress
WordPress is a content management system as well as an open source blogging platform. When we look at the bigger picture, almost 17% of the websites – i.e 60 million websites around the world is built on WordPress. Many of the online websites which are built on Magento platform use WordPress for the blog section and the best example for it is eBay. Apart from being user-friendly, it comes with template customization option and brings in easy-to-embed plug-in structure. In the case of WordPress, you can get the e-commerce functionality just by using the plug-ins from a third party. For this, you can opt for options like Easy digital downloads plugin, WooCommerce plugin and much more.
Magento
Magento is also an open source technology like the WordPress platform. This e-commerce platform brings in some of the wonderful features related to e-commerce, which makes it the best choice among a large number of online stores. You can find a number of small businesses to large and popular multinational companies opting for this e-commerce platform. Needless to say, more than 150,000 online websites trust and follow this platform.
The high level of functionality and the customization options of Magento helps people to set up an online business that meets their all needs. Now these features include SEO, report generation, multi-store management, marketing, mobile platform as well as some other important management tools. Just like WordPress, Magento also offers the option to create complicated content pages and controls. Another thing to note is that the Magento features are comparatively better that the third-party extensions of WordPress.
In case you feel that Magento is the better option compared to WordPress when it comes to your business, you need to choose the right Magento edition by visiting the Magento.com site.
Enterprise Edition – Enterprise edition is the best option for the businesses that are large and growing at a fast pace. It comes with features that are scalable and performs best. You can easily use the extensions and features and get expert support to improve the performance of the website.
Community Edition – This is a free edition which can be used by Magento developers or by small businesses who hire Magento Developers to get their work done. This is an open source which gives access to most of the Magento functions like adding coupons, product categories, etc. as well as provides community support.
Identify the purpose of your website
What you expect from your website will help you to choose the right platform. If you have managed to reach this part of this post, it means that you must be planning to develop an eCommerce website. So first of all, you need to make sure what you want your online store to do for you. Some of the tasks may include:
Creating a Multi Vendor Marketplace – Now this is a complex task which you can better get done with Magento. Even though WordPress also offers some options, but it is not that perfect like Magento.
Virtual product selling – When it comes to selling virtual products, your website does not require complex features like tracking the orders, managing shipping, etc. So you can better opt for WordPress and use WooCommerce or Easy Digital Downloads.
Providing company services – You can get it done using both options as they both does not provide an easy solution. You can use the built-in feature for product types with Magento while with WordPress, you need to use the additional plugins like WP contact form, WP events and others based on your requirement.
Physical product selling – You can get this done by taking the help of both platforms. In case there are more than 500 products, better go for Magento.
From this you can understand that there is no proper solution but if you are talking about e-commerce website, Magento is the better option. Again you need to have better skills and knowledge and spend a good amount of money for maintenance, compared to WordPress. Moreover, the functionality of e-commerce plugins provided by WordPress comes with certain limitations. In case you want your e-commerce site to provide features like have multiple payment getaways, different shipping options or have a multi-lingual store, opting for WordPress will not be a right idea as it comes with limitations.
Development differences
Once you start to develop your e-commerce website, you will soon find the differences between both the platforms. If you have worked earlier on WordPress, you will find Magento tough, but you will find the similarities in the platforms to help you learn it better.
Bringing WordPress and Magento together
In case you are looking for ways to generate more traffic on your e-commerce website built on Magento platform, connect it with WordPress blog. This way you will be able to connect with customers and tell them about your products. You can easily manage the blogs by using the Magento back end while having the WordPress layout in the front end.
Conclusion: So from this, you can learn that Magento is the better and efficient option if you want to set up an online store to sell products. Then again Magento is very complex where you will need professional help and it is expensive too. Right now WordPress is on the stage of evolution and so you can expect it to bring better solutions in the form of management tools for larger businesses in the future. This can turn the things in the favour of WordPress. So until that time, WordPress will provide better service in the field of content marketing while Magento will help to sell out products smartly.