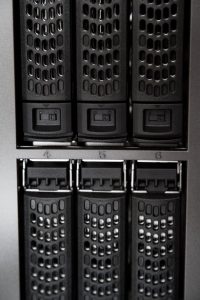 For companies with a small IT budget and limited IT staff, using a managed server may be the best option for your website and other network platforms. That was the experience of Peter Yagecic, director of technology for Situation Interactive, a digital marketing agency.
"For years we had a hybrid approach where we used a managed server provider for our production servers but kept our development environment in house," he said of his experience. After further considering his staff's needs, he moved to a managed provider for everything. Then it happened. "A few weeks ago one of the drives in our RAID went bad in the middle of the night. By the time I read the support ticket log at 7 a.m. the next morning, the issue was resolved with no downtime."
Using a managed server provides many benefits for a business looking to stay current with technology, while reducing the overall total cost of ownership for technology investments, according to John Luludis, president of Superior Technology Solutions.
Turning the managing server has quite a few other benefits that you may not realize. At the top of that list is security. As The Atlantic.Net Blog stated, "The company in charge of hosting your server will continuously maintain the equipment and debug the applications as necessary in order to keep your website protected against viruses and unauthorized attacks."
The managed server also makes the backup routine easier. In the case of a server issue, a backup of data and pertinent software configurations is necessary to be able to quickly (if not instantly) replace the physical hardware or corrupt software of the machine as required, Dan Abbate, CEO with Robotation, which helps SMBs implement technology, pointed out. With higher end managed server implantations, the network itself can also be backed up by instantly routing traffic to a mirror server (located on another network in the same data center or on another network in another data center) somewhere else in the world. Either way with proper backup systems in place when there is an issue, it has minimal effect on uptime.
Another benefit of the managed server is flexibility. Most managed server vendors will have utilities that make it easier for businesses to spin up new server/application instances than if they host it themselves, said Vann Abernethy, senior product manager for NSFOCUS, an Internet security company. "The ability to scale quickly and within a pre-determined cost range is significant," he said. "This gives the business the ability to know exactly what the cost will be for growth and helps management plan more effectively."
The managed server can be a budget saver, Abernethy added. "Managed server vendors utilize economies of scale to offer their services, which is generally less expensive than a business operating the server internally as it saves them from having to purchase the server, hire and train staff, and find the space for it."
Overall, the most important – and perhaps most hidden – benefit of using a managed server is the peace of mind you'll have knowing that your data is secure, there is a regular backup routine in place, and it isn't a budget buster. Instead, you can let someone else manage the technical side of things while you can concentrate on managing your business.
Sue Poremba is a freelance writer focusing primarily on security and technology issues and occasionally blogs for cloud service provider Rackspace Hosting.