When you invest in creating quality content for your website, you would want it to reach to the maximum number of people. Language can be a barrier as most of the content available online is in English. This means that a major proportion of world population is unable to access it (only 26% of internet users are native English speakers). The solution comes in the form of a multilingual website. A WordPress-powered website makes a great choice as it can be easily translated into multiple languages using a multilingual plugin.
There is an impressive range of multilingual plugins available for a WordPress developer. These can be categorized into Auto-translate and Self-translate. With auto-translate plugins, you can convert your content into various languages with online translation services. Conversely, with self-translate plugins, you have to translate it yourself or have it done by someone.
Here are some of the most popular WordPress multilingual plugins which can help you expand your horizons:
WordPress Multilingual Plugin (WPML)

One of the most widely-used multilingual plugins is WPML, a paid plugin with licenses starting from $ 29 (Multilingual Blog) and the upgraded version coming for $ 79 (Multilingual CMS). The basic version can be used for handling multilingual posts, taxonomies, and menus, while the CMS version can translate widgets, themes, and custom feeds too.
WPML emerges as a preferred choice for wordpress plugin developer as it has an amazing array of features. It offers complete multilingual functionality and multi-user translation management. It gives support for as many as 40 languages and you can choose auto-translate or self-translate, whichever option suits you.
Polylang


Polylang is a free multilingual WordPress plugin which can be used to create and manage a multilingual website. It supports more than 41 languages, works well with almost all WordPress themes and gives you a choice between auto-translate and self-translate. It can be linked with Lingotek translation services. The plugin offers translation features for regular posts, custom posts, widgets, and taxonomies.
Polylang enables the users to pick the preferred language from their profiles, following which the respective language pack is downloaded automatically. The users can use a widget to switch between languages conveniently.
qTranslate X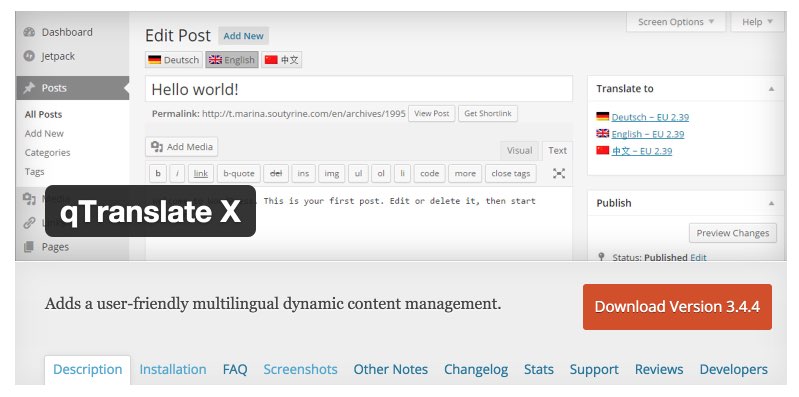 Another free multilingual WordPress plugin, qTranslate X comes across as one of the easiest plugins for managing dynamic content on the website. All that has to be done is to activate the plugin and then write content. The powerful plugin not only supports endless languages but enable the users to switch languages while editing a post. This means that they can simultaneously work on the same content in different languages.
qTranslate X offers a series of interesting features such as dedicated language chooser widget, language coding for URLs along with three different URL formats, and language specific sitemaps for Google XML Sitemaps and Yoast SEO. Another benefit of qTranslate X is that it can be integrated with third-party plugins and platforms.
Google Language Translator


Google Language Translator is a trusted multilingual plugin if you want a fast and economical translation solution for your site. This plugin enables you to add the official Google Translate tool into the WordPress site. It is easy to set up, as you just need to download and activate the plugin to start using it.
The plugin supports nearly 80 languages and enables you to choose between a selected range of languages manually or a whole array of options in Google Translate.
If you want to avail the benefit of multilingualism for your website, you should rely only on the best wordpress development services. They would choose the suitable multilingual plugin that would bring excellent results for your WordPress website.