The top gaming laptop brands are Alienware, Asus, and Acer. This "Big Three" are the go-to brands for gamers who are serious or hardcore in their pursuit for mobile gaming that will allow them to have the best gear their gaming needs.
Alienware
Alienware is a line from Dell, and features powerhouse and popular gaming laptops such as 2015's Alienware 17, which has the world's best mobile graphics card, the Nvidia GeForce GTX 980M and perfection resolution for gaming, as well as an Intel i7 Core Processor for the best processing speeds one can get from a laptop rig.
This Dell brand is well-known and for good reason—their proven gaming laptop lines have been the most desirable, unique, and different gaming laptops on the market. Recently, they have even offered an option to purchase an optional graphics amp that is outfitted with a desktop GPU—which is much more powerful than a mobile GPU—allowing for better gaming framerates and graphics. This means, the user can tether this desktop GPU to their laptop to overcome a laptop's limited graphics ability, for the best gameplay available.
Asus
The Asus ROG Series is the brand's gaming line of PCs for hardcore gamers. These notebooks are among the best in gaming laptops due to the high-end options they provide and have received excellent scores from reviewers. Their new G-Series in the ROG line have made waves due to the anticipation of their gaming laptop that can run any game and do so with the best quality parts.
The ROG G752 is the world's first to incorporate a mobile 3D Vapor Chamber thermal system that provides more efficient cooling during gameplay. The ROG G752 was created so that the user can play any game while not having to turn any settings down for quality, texture, shadows, or other features, just to receive playable frame rates. With Asus, those days are gone.This model from Asus also provides a 17.3 inch Full-HD IPS display with G-sync, capable of 4K display. It also contains 6th Generation Intel Core i7 processor with Nvidia GeForce GTX 980M with 8GB of GDDR5 VRAM and a plethora of other high-quality features that makes Asus one of the "Big Three" in the gaming laptop world.
Acer Acer does not take the backseat in the world of laptop gaming power. The last but not least of the "Big Three" makes this list due to the sheer power that matches Alienware and Asus, as well as other gaming brands, as well as unique features it has that sets it apart.
The Acer Predator 17 is the behemoth gaming laptop that offers 6th Generation Intel Core i7 processor, Nvidia GeForce GTX 980M graphics card, and Nvidia G-Sync monitor support.
The Predator 17 has a 17 inch display with up to 4K resolution for excellent gaming, FrostCore, DoubleShot Pro, PredatorSense, and Dust Defender. A unique feature that will immerse the player into the game, is the SoundPound 4.2, which give you four speakers, two subwoofers, and Dolby Audio for bass and deep sound immersion.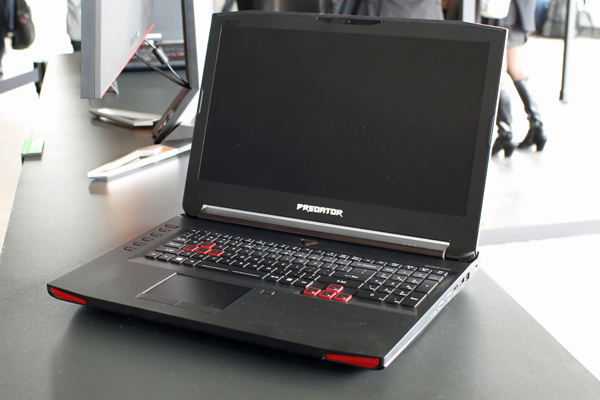 Whether you are a hardcore gamer or someone seeking a good brand that offers a variety of gaming laptops, both high-end and economic, Alienware, Asus, and Acer are the first three brands a gamer should seek out for a gaming laptop that fits their needs.