The growing popularity of Blu ray technology is quite evident in the tech world these days. Almost every technological brand is coming up with one of their own Blu ray player to get the share from this newly created market. Although the prices of Blu ray systems are quite high, people still prefer to buy these systems just so they can enjoy the movies in the highest possible resolution, i.e. Blu ray quality.
Same goes with 3D industry. 3D TVs are quite expensive and can range anywhere from 2,000 USD to 4,000 USD. But users are able to buy 3D Blu ray systems that are greatly inexpensive when compared to the 3D TVs and still enjoy the 3D movies from the comfort of their home. The biggest advantage of having a Blu ray 3D player is that you don't need to buy a 3D TV to watch 3D Movies now.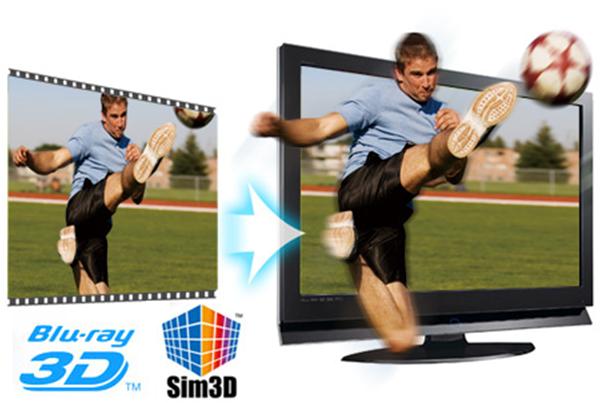 Most of the high end 3d video player range from 500-600 US, but some of the middle and low range players are also available for less than 300 USD. WI-Fi is one of the most desirable features of any Blu Ray player, and most of the low range players don't offer the feature of WI-Fi, except for a few, which can be a great set back if you want to opt for such low-range Blu Ray players. Some people use PC software as well to run Blu Ray movies on PC such as: TotalMedia Theatre. However, below is a list of 5 of such comparatively cheaper 3D Blu ray players that provide great quality and complete features.
Totalmedia Theatre By Arcsoft
This is by far the best 3D players out there in the market right now. Therefore it definitely deserves to be mentioned before all others.
Offers 15 Day Free Trial
Price – 87.99 USD
Awesome UI – Works flawlessly with Windows 8
Plays almost all the media files available today
Enjoy Best 3D effects and Graphics
Allows downloading and sharing of videos online
Samsung BD-C5900
Price – 130 USD – 236 USD
Video Resolution – 1080 p / 24 p
DVD up scaling feature – 1080 p
Analog Output – 2.0
HDMI Output – 7.1
Supported Media – CD, DVD, Blu Ray
HDMI – 1.4
WI-Fi – Not Available
Ethernet – Available
Release Date – 2010, July
LG BX-580
Price – 180 USD – 299 USD
Video Resolution – 1080 p / 24 p
DVD up scaling feature – 1080 p
Analog Output – 2.0
HDMI Output – 7.1
Supported Media – CD, DVD, Blu Ray
HDMI – 1.4
WI-Fi – Not Available
Ethernet – Available
Release Date – 2010, May
Samsung BD-C6800
Price – 160 USD – 249 USD
Video Resolution – 1080 p / 24 p
DVD up scaling feature – 1080 p
Analog Output – 7.1
HDMI Output – 7.1
Supported Media – CD, DVD, Blu Ray
HDMI – 1.4
WI-Fi – Not Available
Ethernet – Available
Release Date – 2010, July
Sony BDP-S470
Price – 130 USD to 199 USD
Video Resolution – 1080 p / 24 p
DVD up scaling feature – 1080 p
Analog Output – 2.0
HDMI Output – 7.1
Supported Media – CD, DVD, Blu Ray
HDMI – 1.3
WI-Fi – Available
Ethernet – Available
Release Date – 2010, Feb
Sony BDP-S570
Price – 175 USD – 249 USD
Video Resolution – 1080 p / 24 p
DVD up scaling feature – 1080 p
Analog Output – 2.0
HDMI Output – 7.1
Supported Media – CD, DVD, Blu Ray
HDMI – 1.3
WI-Fi – Not Available
Ethernet – Available
Release Date – 2010, Feb
Clark Jones is a freelance writer who has had extensive experience in developing codec's for media player software. He has been using Arcsoft 3d player software to play 3d Movies