As a college student, I'm sure you've heard the same advice over and over again – how important it is to find the right job and how you must participate in every extracurricular activity that comes your way.
There are however, some precious stones that are still unturned: advice that either isn't commonly given to college students or regarded as unimportant. Well, here are top five pieces of college advice you may have yet to hear from your mentors and seniors.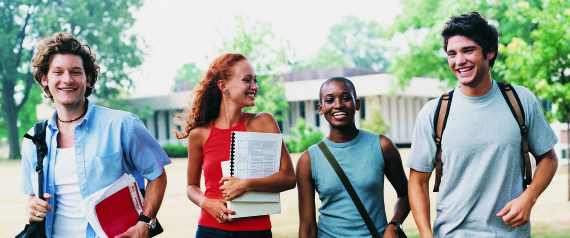 1. Make Your Schedule Work for You
Most folks are going to tell you to put everything aside after class and just bury yourself head first into all those after-class projects and assignments. You know what? If you're a night person, hit the books then if it helps you absorb more as your productivity levels peak.
If you feel your productivity is uber-high only a few hours before the assignment's to be handed in, welcome that with open arms.
Here's your brand new piece of advice to follow: ditch everybody else's version of what you need to do to get better organized. Everybody has their own groove. So tap into yours and get in gear.
2. Taking Time off is Good
Some college students feel ashamed about taking time off as it might lead others to believe that they couldn't keep up with the fast-moving college life or were unable to cope with the stress of performing well in class.
What you may not know is that taking gaps between your college years are becoming widely popular. A little break to discover yourself might turn out to be among your best college life experiences. Why not get away from it all for a while to see the world, pursue internships, live on your own, or do whatever you love doing?
This is an opportunity to discover yourself and better determine what you want to pursue after graduation, before returning to your college semester completely afresh. Plus, getting the extra attention when you get to share cool stories isn't a bad deal either!
3. Let Others in
Even though study hours and maintaining a little bit of privacy are important, don't hesitate to leave your residence hall door open every now and then. Why not spontaneously exchange introductions and let people know how open you are to making new connections?
The friendships and acquaintances you make in college stick with you for life. Besides, making new friends at random is just plain exciting!
4. Sad? Well, That's Okay!
They say college life is the best four years of your life. However, that's not to say that the pressure won't get to you, and you may not even want to admit at times, that you're not very happy.
You're not alone; college is a transitional phase and for many people, it is the very first time they are spending time away from home and having to accommodate themselves in a new environment, new living conditions so to speak.
You might feel lonely and overwhelmed at times, given the change in surroundings, but know this: there's a high probability your experience isn't any different than all the other college-going kids. Treat them as growing and learning experiences, try your best to adapt and make it worthwhile. After all, these experiences might prove to be highly valuable later on in life.
5. Avoid a Communication Breakdown
Nobody likes to deal with roommate conflicts – between the assignments and your hectic class schedule, that's the last thing you want. You might witness a fare amount of incidences on campus and they are more than likely a result of failing to communicate.
Early on, it's important to be honest with your roommate, and ask for the same in return. Work on some kind of a roommate contract at the start of the year, so both will know where to draw the line or know each other's responsibilities. It's important to always remain on the same page in order to know what's doable and what isn't. If any confusion arises, communicate!
The weight of the world doesn't have to be on your shoulders. College life is only lived once, so instead of letting it pass you by, live it, cherish it and look back on those great memories once you start working and have a family of your own.