In the Indian automobile market there is a stiff competition in the premier hatchback segment. Most of the car manufacturing companies are going for small, affordable and fuel efficient vehicles. Hyundai Motors India Limited and Skoda are two companies that are popular in this segment. Let us find how the Hyundai i10 and the Skoda Fabia fare against each other.
The Hyundai i10 was introduced in 2007 and was re-launched in 2014. The Skoda Fabia was launched in 2009.
The Hyundai i10  petrol and two LPG versions with prices ranging from Rupees 3.87 to 4.62 lakhs. On the other hand, the Fabia has four petrol and three diesel versions priced between Rupees 5.02 and 7.51 lakhs. The transmission is 5 speed manual for both the models.
As many of the other Hyundai cars, the i10 has a fluidic design. The front fascia is completed with a hexagonal grille which comes with a horizontal chrome slat, a wide air dam and rectangular headlamp fittings. The 10 has a body matching waistline moldings on the sides.  The other external features include elongated headlight fittings, a front lip spoiler and black foils on the pillars.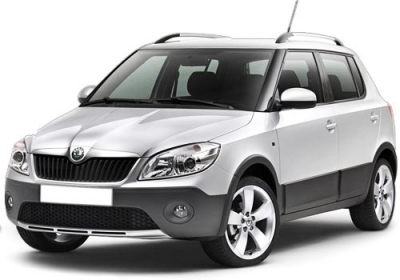 Some of the common features include body coloured bumpers, body coloured ORVMs with turn indicators and fog lamps.
Both the cars get standard features like a manual AC, fabric seats, an engine immobiliser, child lock and central locking facilities and a CD player. The i10 has an anti-theft alarm and a keyless entry. The Skoda Fabia has a leather wrapped steering wheel and airbags for the driver and the co-driver.
The i10 has an 1086 cc engine under the hood which generates a power of 68 bhp and a torque of 99.08 Nm. The mileage figures are 19.81 kmpl with petrol and 19.2 km/kg with LPG. The 1198 cc petrol engine of the Fabia generates 75 bhp of power and 110 Nm of torque and gives a mileage of 16.4 kmpl while the and the 1498 cc petrol engine generates 105 bhp of power and 153 Nm of torque and gives a mileage of 14.8 kmpl. The 1198 cc diesel generates 75 bhp of power and 180 Nm torque and a 21 kmpl mileage.
The suspension of the i10 is the McPherson strut with coil spring and the anti-roll bar type at the front and the coupled torsion beam axle with coil spring at the rear. The Fabia has the McPherson strut at the front and the coupled link crank axle at the rear.
The boot volume of the i10 is 225 litres and that of the Skoda Fabia is 315 litres.
The i10 has better drive comfort while the Fabia is better as far as the cabin and cargo space are concerned.