The banking community knows that successful CRM implementation is more than just another software solution deployed at their financial institution, it's a whole business strategy that has to place equal emphasis on marketing, sales and service. In this light, Client Relationship Management solution can enable your bank to increase the value of collaboration with customers by efficiently using proper information and analytics.
Obviously, banks have been using this data to increase sales and service quality for a long time. But today's CRM solutions are capable of delivering tools to literally help banks mine the "gold" in their consumer information.
Here are five CRM ingredients that will help you not to lose sight of what is the most important for your bank to increase the profitability and boost customer loyalty.
360-degree Customer Profile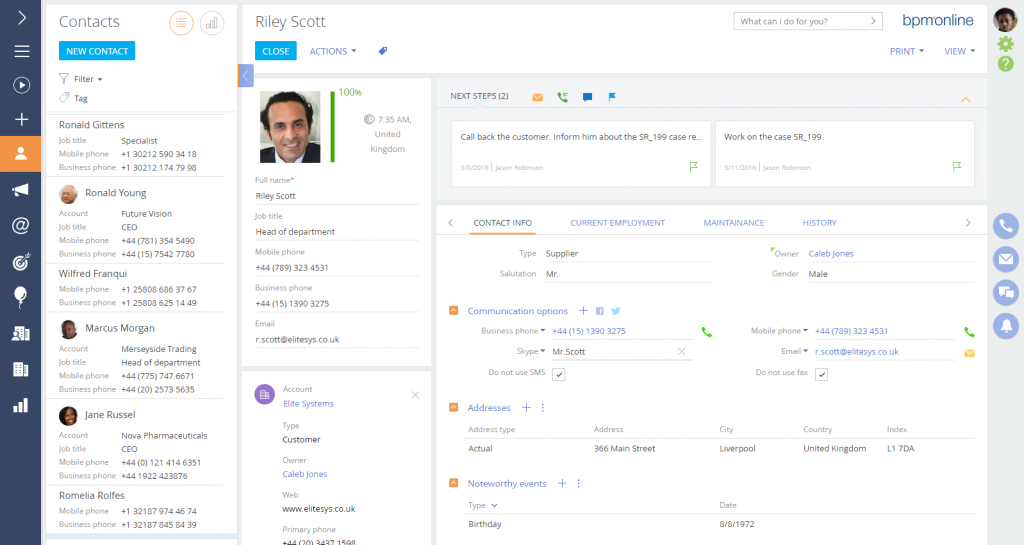 If you are not able to collect and organize the whole dimension of the customer data, you are most likely losing opportunities. Today CRM solutions are capable of organizing the complete customer database of the bank such as legal entity profiles, contact data, history of interactions with each client, offered and popular products, transactions, contracts, bank accounts and cards, as well as any other financial instruments and information. In addition, such systems allow users to customize customer profiles and visualize the data in a convenient way so as to identify important customers and transactions and track the completeness of their profiles.
A 360-degree customer profile picture lets users to analyze the structure and history of relationships for each company or the entire group as well as edit them right away from the dashboard. The list of valuable data can be completed with the data from social networks due to integrated social media monitoring features that some top-tier solutions provide. With a 360-degree customer view option, users are able to craft an effective omnichannel communication strategy to offer clients most relevant financial products and improve service, leading to better decisions on future investment and banking strategies.
The Alignment between Marketing, Sales and Service
Alignment between Marketing, Sales, and Service is potentially the greatest opportunity for improving bank's or any other business performance today. When marketing and sales teams unite around a single process cycle, they drastically improve ROI, productivity, and stimulate growth. But today banks need to be far more precise and adopt more efficient ways to attract and service clients in order to keep the market share. That's why CRM solutions that align core departments can help banks track the customer journey from the first point of interaction to the service stage to increase and maintain loyalty as well as share the data and knowledge between employees. This will also allow for storing leads to the system automatically from the landing pages and keeping track of the best performing sources.
All-in-one CRM platforms also offer such features as lead qualification and scoring which allows to route the lead to the most relevant employee based on their qualification as well as sort them by priority and identify the most valuable ones. Besides lead generation and management, advanced CRM systems are able to help banks analyze the effectiveness of the marketing campaigns and identify the pitfalls to better plan next marketing activities. Centralizing efforts on one platform enables teams to build relationships with customers based on a history of their communication patterns, including calls, meetings, correspondence, contracts and offerings related to specific individuals or legal entities. This helps employees to evaluate the status of communication so they can change approach to achieve better personalization level and results.
Business Process Management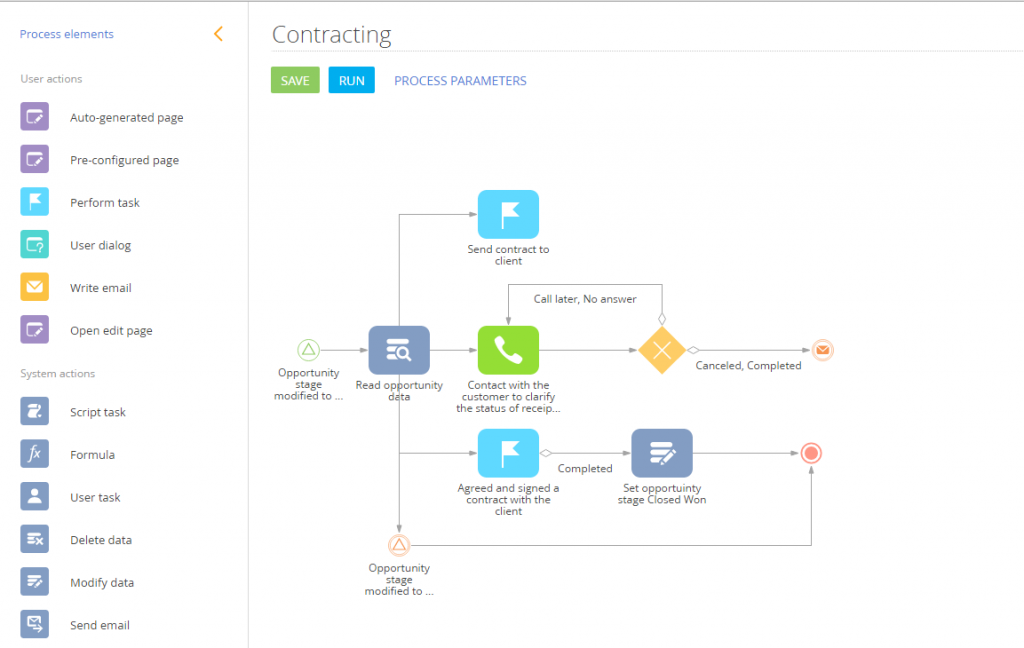 If your bank already has a set of processes in place but there's no feeling you can take them under control, it might be just a mix of manual sorting and ineffective communications that risk losing leads and all-important opportunities. That's why it's critical to deploy a CRM solution that is capable of delivering high-end process automation to ensure increased customer satisfaction and shorter time-to-market for services and products, greater efficiency combined with cost savings, and full transparency of all activities across the departments and organization. Managing processes with CRM solutions like bpm'online guarantee the quality and consistency coupled with an option to use a powerful yet simple visual process designer. This lets users to model processes using preconfigured elements for creating such activities as calls, tasks and emails, working with pages, and processing data while invoking external services. With visual process designer users can set up the sequence of actions and owners to automatically build the relevant diagram and run the process without delays.
Top-tier Out-of-the-box Processes
Apart from visual process designer, full-fledged CRM software solutions present the out-of-the-box processes based on the best industry practices. This specific out-of-the-box processes allow bank staff to employ the best practice processes for various operations, starting from sales, service and marketing to essential financial operations like money transfers, P2P payments and in-branch assistance. For instance, the best practice processes can help to deliver consistent processing across various payment types, and decrease the time needed to deliver the financial products and services to customers, or effortlessly manage bank lobby flow. The process can guide bank associates through each step and suggest next-best actions to help them reach better results. With progressive CRM's at place bank teams are able to employ the out-of-the-box best practice process, but at the same time to modify them or create new ones to fit the unique needs of the bank and its customers.
Valuable Analytics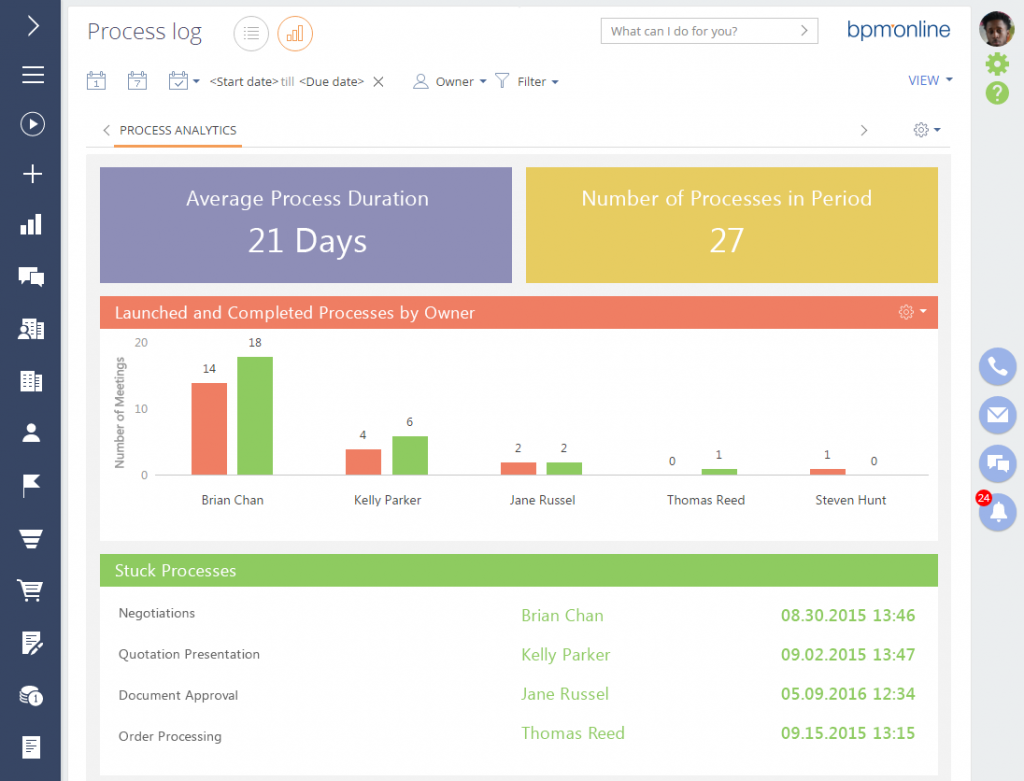 Each organization needs a comprehensive solution to control bank's results to ensure teams are working effectively and delivering good results. It is beneficial for the financial institution if an implemented CRM solution has an integrated analytical option. Advanced CRM analytics comprises all key processes that analyze data about bank's customers and presents it in a visualized way so users can make better and quicker business decisions. By using multiple variables such as owners, products or branches, users can keep track of any process execution metrics (average execution time, duration, values, etc.), which ensures that only relevant statistics is displayed and employees are not being distracted from the key tasks.
The ever-competitive banking industry caused the need for financial institutions to adopt a user-friendly yet flexible and scalable solution that will help them attain the most important goals of customer profitability and regulatory compliance, and the list of abovementioned features will help you choose the best one for your bank.